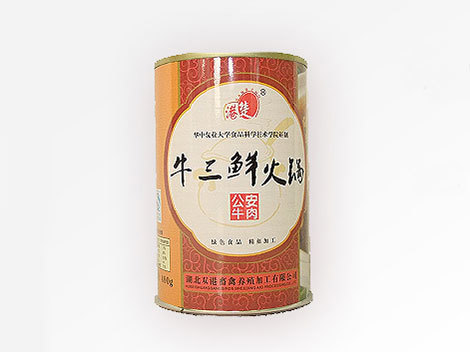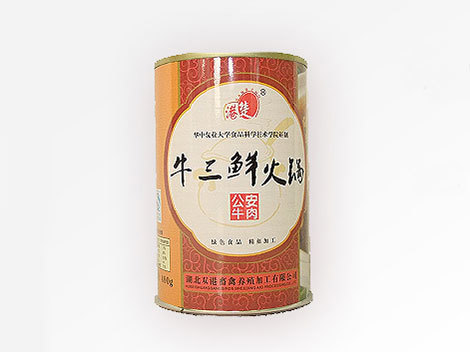 "Port Chu" Beef Sanxian Hot pot
Raw materials and ingredients: beef tendon, tripe, yellow throat, water, edible vegetable oil, edible salt, dried pepper, chives, garlic, bean paste, cooking wine, vinegar, monosodium glutamate, sesame oil, spices
---
Category: "Gangchu" series
key word:
chu
is
eat
product
production
oil
and
edible
to
standard
"Port Chu" Beef Sanxian Hot pot
---
Raw materials and ingredients: beef tendon, tripe, yellow throat, water, edible vegetable oil, edible salt, dried pepper, chives, garlic, bean paste, cooking wine, vinegar, monosodium glutamate, sesame oil, spices
Implementation standard: Q/JSG0006S-2012
Production License: QS4210 0901 0005
Solid material: ≥30%
Net content: 950g (g)
Product grade: qualified product
Production date: See code at bottom of tank
Shelf life: 12 months
Storage: cool, dry and ventilated place
How to eat: Heat to eat (microwave oven is preferred)
Note: This product is packed in vacuum. Do not eat it if the can is raised
Outstanding professional advantages: the company has gathered high-quality management team, technological talents and R&D management talents in the industry. Among them, the average experience of production, technology and sales personnel is more than 15 years, which can quickly provide professional one-stop integrated solutions for the majority of customized home enterprises and office furniture enterprises.

Process technology: The project adopts a fully automatic flexible production line, with a high degree of production intelligence, advanced production technology, high product quality standards, and production efficiency superior to traditional equipment. It can produce and supply synchronous textured products and high-gloss products in large quantities.

The market prospect is broad: with the rapid increase of people's income and the acceleration of urbanization, the furniture is updated while the housing is upgraded, and the demand of China's furniture market increases at a rate of 20% - 30% every year. The number of new furniture added by newly established families each year is more than 6 million, and the corresponding demand for furniture production panels is strong.
---
If you have any suggestions or feedback on our company, please fill in the relevant information on this page and submit it. A staff member will contact you in time, or please call us directly.